Doral's
Best Commercial Metal Roofing Contractors
Construction cost is increasing with time. A bit of research should be done to get verified and genuine products and services at affordable prices. You will be amazed to know how much amount of money and resources will be saved if you are dealing with the right people and have some knowledge regarding the projects you do.
If you are worried about metal roofing on your commercial roof, you should consult metal roof contractors who are experienced and can guide you in the process of commercial metal roofing. Metal roofs are quite popular and in demand for commercial locations. It's because such roofs fit well in industries, agricultural and other buildings like schools, offices and universities, shopping centers, resort, hospitality, farms, auto shop, brewery, casino, fitness center, and much more.
For a metal roof to last long, it must be installed properly, and every step should be done with care so that the customer has a trouble-free experience. If you live in Doral, Florida, and are wishing for a metal roof for your commercial building, you should prefer Doral Metal Roofing Company. We have experienced and skilled roofers for performing all types of metal roofing services.
What are metal roofs?
---
A metal roof or a roofing system consists of overlapping metal roofing panels or shingles that are joined with fasteners to an open framework or to a solid substrate. Metal roofs are the top choices of architects and builders because of the strong and sturdy nature. There are many reasons for choosing metal roofs for commercial buildings. They are –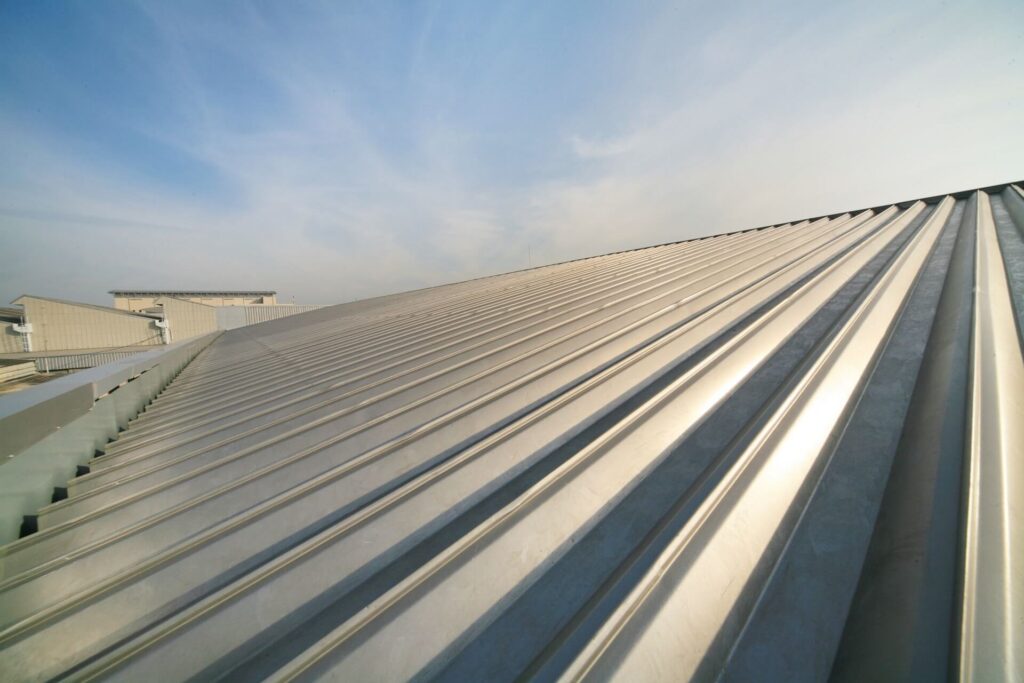 What are the different types of commercial metal roofs that you should consider?
---
 Standing seam metal panel – the standing seam metal panels are made by constructing vertical legs over the flat roof. The seams generally rise 1 to 3 inches above the roof deck. They are very beneficial as it allows panels to mechanically snap together and the metal panels are interlocked by using fasteners which are covered or not exposed.
They are created in a structurally fit pattern so that the contraction and expansion of metal during changing temperature can occur without any change in the metal roof's function.
 Curved roofing systems can be used as a design accent or installed on the entire roof. They are an attractive choice for industrial buildings. They are a type of standing seam roof that provides an appropriate solution for curved roofs, arched canopies, and walk away covers. Since they are curved on the job site, they offer easy transportation.
 Tapered panel metal roof – efficient mechanisms to drain water in commercial roofs where the greater problem is caused by water drainage instead of harsh climatic conditions.
Why should you choose Doral Metal Roofing Company for commercial metal roofs?
---
At Doral Metal Roofing Company, we aspire to provide high quality and long-lasting material. The roofs installed by us have a unique aesthetic look. We believe in customer satisfaction. We hope to serve you with the best material and guide you honestly for your metal roofing project.
Our organization is licensed and insured, which adds as a plus point for all our customers. We have been working in the metal roofing field for over a decade and have immense experience in commercial metal roofing.
So, it's time to grab the best deals at affordable prices; contact us now!!
Time to Replace Your Roof? We Can Help
---
Considering roofing replacement? When it comes to roofing projects, many homeowners rely on professionals to get the job done. At Doral Metal Roofing Company, our specialists stick to all the industry standards when installing metal roofing on both residential and commercial properties. Therefore, you can be sure of getting a sturdy roof on top of your house. As a result, you can get the best services from our company in the following fields;
What Locations do we Serve?
---
Doral Metal Roofing Company is a name you can trust and rely on. Our metal roofing services were limited in Doral, FL when we started. But with time our company has expanded and is now serving over ten locations within Florida.
It shows how reliable we are. Here are some places within Florida, where you can access our world-class metal roofing services: –