Best Re-roofing
(Retrofitting) Metal Roofs in Doral
It is not easy to get a new roof installed every other day. But sometimes it becomes necessary to get one. If you are in dire need of saving money for the time frame, metal roofs can help. Metal roofs are unique and very versatile. If you are facing trouble with your roof, you can hire a good and reputed metal roof contractor who can analyze your roof and give you probable options for the same.
Metal roofs are quite handy. You can re-roof your property with no wear and tear on the existing roof. This is very beneficial as it saves both time and money. Your roof's life is surely dependent on the material used, but also, the focus should be laid on the roofer you work with. If the roofer is not considerate and makes errors in the roofing project, your roof will cause many troubles. So, it is advisable to choose contractors who are experienced and well versed in their field.
If you live in Doral, Florida, you are fortunate enough to have Doral Metal Roofing Company in your town. We have skilled roofers who measure your roof completely well and then proceed with the retrofitting with perfection.
What is re-roofing or retrofitting of metal roofs?
---
It involves installing a new roof over the existing one without the need for removal of the previous roof. The re-roofing or retrofitting will save the cost of the money which you would have otherwise spent on the removal of the old roof. They are effective in today's time and are a valuable asset. There are many factors and conditions of the previous roof which must be considered and looked upon before reaching the decision of the metal re-roofing.
The material which has been installed for years will naturally require some sort of repair or change. So metal re-roofing comes as a handy and effortless method for your commercial or residential roofs.
 What are the factors that must be considered for choosing re-roofing or retrofitting the current roof system?
All the technical issues, geometry, and prevailing conditions of the existing roof must be identified. The new roof geometry and shape will be determined largely on the previous roof conditions. The roofer must evaluate your roof by investing proper time and effort. A survey must be carried that will provide the metal roof contractor with a roof plan. The survey must convey these details such as –
Roof perimeter construction, which includes gravel stop/ fascia and whether concealed parapets are there or not.
Height of the roof
Coping size
Style location of load-bearing and interior firewalls
Existing drainage system location
Locations of all rooftop conditions like electrical, plumbing, and HVAC.
There are generally two options to consider while re-roofing the existing roof –
Build over the equipment (during the addition of high slope roof)
Raise the equipment to a new level of the roof
Most of the retrofit roofers choose to build over the equipment type. The mechanical engineer must be called early during the project so that the airflow ventilation, which is required between old and new roofs, can be determined. Access for roof repair, maintenance, and a replacement must be provided.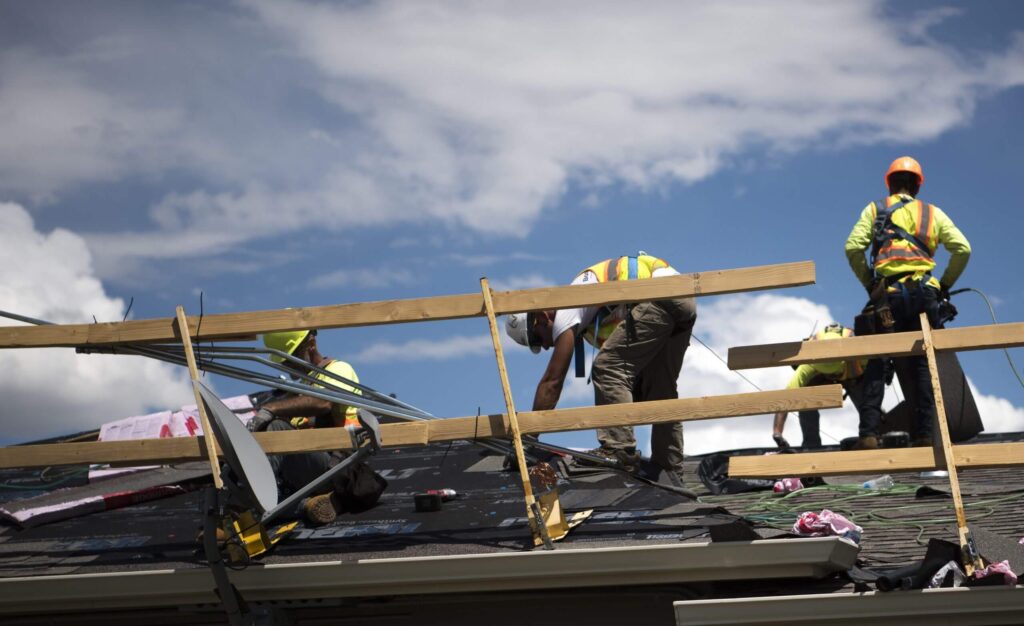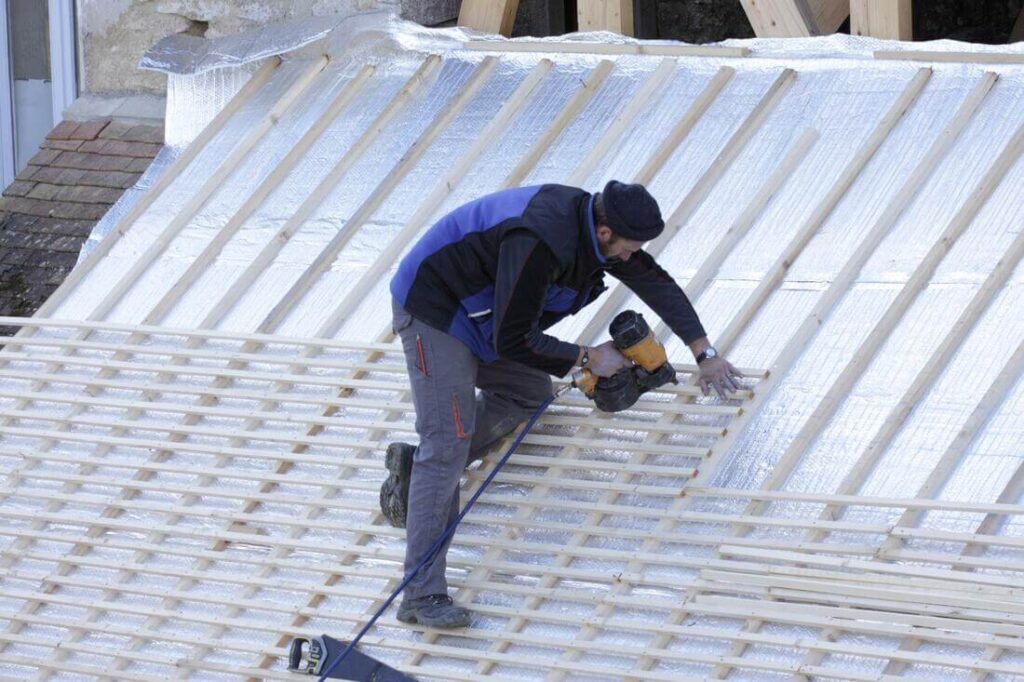 Analysis of existing roof system 
A checklist of all the existing roof conditions such as inspection of the underside of the roof, and taking note of type, sizes, and span of the currently used joists and should be made well in time.
The ability of the structural support system must be checked in relation to the positive and negative load it can take.
The ability to withstand lateral wind forces created by retrofit systems must also be checked for.
All the collateral loads that have been added from the beginning of roof construction must also be confirmed.
Knowing what type of metal retrofit will suit the existing roof conditions
There are four different types of metal roof retrofits, namely through fastened, functional standing seam, structural and architectural standing seam, and the fourth one is a pure architectural nonstructural system. Through fastened metal roof systems involve generic and preformed metal roofs.
Functional standing seam metal roofs suit best for low- cost and low – slope roofing systems (low slope ranges from ½:12 to 2:12). They serve more of utility services. They are constructed in a manner that provides greater rainwater carrying capacity for low slope applications. Structural, architectural panel systems are suited well for high slope applications (typical roof pitch greater than 2:12). These roofs are fine-looking and provide a greater aesthetic look to your metal retrofit system.
The pure architectural nonstructural system is solely installed for the purpose of appearance. They are well suited for high slope roofs. They are installed over wood or metal decking. Doral Metal Roofing Company will work with an exceptional amount of effort and make your roof totally new. We have special techniques for retrofitting roofs that make them last long and functionally stable.
Why should you choose Doral Metal Roofing Company for metal roofing services?
---
We have been working in the town for over a decade. Our organization has made a reputed name in town by delivering the metal roofing services people expect. We have roofers who are skilled for the job of metal roof construction. It's because we know how important the right skills and experience are for metal roofing. The roof, when installed by experienced and skilled professionals, is less likely to fail.
Our customers have got amazing results and are happy with our style of working. They have rated and reviewed us with maximum points because the service quality was best. The cost-effective and reasonable pricing scheme suits well to the majority of the people. We are proud of providing international level services to the local people of the town. 
If you want your roof to look good and work for a longer time without causing many issues, the Doral Metal Roofing Company is the best choice for you. Our roofers can also inspect your roof for free. You can have a glimpse of our working techniques and credibility. So, call now and avail the benefit!
Time to Replace Your Roof? We Can Help
---
Considering roofing replacement? When it comes to roofing projects, many homeowners rely on professionals to get the job done. At Doral Metal Roofing Company, our specialists stick to all the industry standards when installing metal roofing on both residential and commercial properties. Therefore, you can be sure of getting a sturdy roof on top of your house. As a result, you can get the best services from our company in the following fields;
What Locations do we Serve?
---
Doral Metal Roofing Company is a name you can trust and rely on. Our metal roofing services were limited in Doral, FL when we started. But with time our company has expanded and is now serving over ten locations within Florida.
It shows how reliable we are. Here are some places within Florida, where you can access our world-class metal roofing services: –